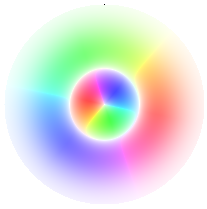 Quantum Physics Online
---
Dernières mises à jour
2022/05/08 La page sur les harmoniques sphériques a été remaniée, avec un contrôle amélioré des paramètres et un tableau des premières harmoniques sphériques (pour \(\ell\le6\)).
2022/05/02 L'applet sur l'oscillateur harmonique permet désormais d'afficher la fonction d'onde complexe en plus de la densité de probabilité.

2022/04/05 Nouvelle applet interactive sur la propagation d'un paquet d'ondes libre. Des paquets d'ondes non gaussiens de largeur ajustables sont désormais disponibles.
---
Une version antérieure de ce site a reçu le prix MERLOT 2003 Classics Award for Physics. Cette version mettait en oeuvre des applets Java qu'il n'est plus possible de faire tourner simplement dans un navigateur. Cette nouvelle version du site propose des vidéos capturées à partir d'applet Java, ainsi que quelques simulations interactives en javascript.
(c) 2019-2022 Manuel Joffre, tous droits réservés
---
---
Latest upates
2022/05/08 The spherical harmonics page has been updated with improved controls and a gallery of the first spherical harmonics (for \(\ell\le6\)).
2022/05/02 The harmonic oscillator applet has been updated and can now display the complex wavefunction instead of just the probability density.

2022/04/05 New interactive applet on the propagation of a free wavepacket. Non-gaussian wavepackets of adjustable width are now available.
---
An earlier version of this web site has been awarded the MERLOT 2003 Classics Award for Physics. This earlier version, powered by Java, can no longer be run within current browsers. Instead, non-interactive videos captured from these java applets are now provided, with a few of them translated to interactive javascript applets.
(c) 2019-2022 Manuel Joffre, all rights reserved